Home
RIDING HOLIDAYS IN ANDALUSIA
Classic Iberian riding classes on superbly trained Iberian horses
Accommodation in house & apartment
Guided visits to horse events in Andalusia
Ride to the beach and in the pine forest
Horse event trips
Iberian horse trading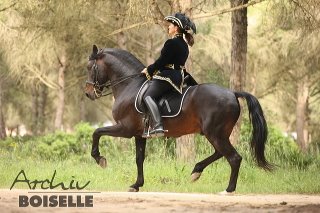 Welcome to my website! Hi, I am Karin Leuthardt-Soto, and all that know me also know that my youth and childhood are intrinsically linked with my love for horses. Many of you have already visited me, and know our old Picadero Roche riding school, which I ran very successfully for more than ten years.

Even as a child, horses have always been my absolute passion. They have determined my entire life, especially after I learned to ride Iberian horses. I have also had the pleasure and privilege of attending school with some of the great trainers in France, Portugal and Spain, where I was taught understanding and empathy for all horses. I myself train horses tentatively and with intensive sensitivity.

I graduated in 2000 from the Real Escuela Andaluza de Arte Equestre in Jerez. I have now been training for many years with Rafael-Soto, Ignazio Ramblaz and Chema Rivero. Well trained Iberian horses are provided for your riding class. My goal is to take you further according to your trained level of riding, to make sure you have fun with this wonderful breed of horses, and to take you closer to the benefits of the Iberian Riding Style.

Perhaps you would also like to discover doma vaquera or working with the garrocha yourself. A professional will instruct you here. For beginners and advanced riders. You will enjoy unforgettable wonderful riding holidays here with us. I'll be only too happy to advise you in planning your trip.
We look forward to welcoming you to our little piece of paradise!



Mail: info@karinleuthardt.com - Tel. 0034 603 402 603
Yours

Actualisiert on 17th. February 2019